Base Types of Hair Systems
01/09/2017 18:37:19
430 views
Whether you are a brand new customer or existing customer, knowing about the range of base types we stock can help you choose the best hair system for your needs.
We have 4 types of base:
1) Full Skin base
2) Full Lace base
3) Lace/mono with a polyurethane (PU) edge
4) Skin with lace front
We have 4 types of skin bases
Ultra thin skin 0.03mm. Durability: 3 months
BIO skin 0.08mm. Durability: 3 months
Poly skin 0.14mm. Durability: 5-6 months
Silicon 0.25mm. Durability: 12-18 months
We can use 3 types of ventilation on these skin bases
Single split knots – these last longer but may look less natural as the knots are visible
V-loops – these do not have knots and so look more natural
Injected – this type of ventilation sheds easier and cannot hold heavier densities
We use 2 types of lace:
1) Swiss lace – this is the most natural, undetectable and breathable base material. It is very thin, delicate and soft, therefore is very comfortable to wear. However it does not last as long as other materials and needs to be replaced more frequently.
2) French lace – the most popular material, it is delicate, breathable and durable. Due to its natural looking color, it is best suited for the front of the hair system e.g mono with french lace front.
We have 4 types of monofilament:
1) Fine Welded Mono – this is the strongest mono and has a lace front. It is very durable, natural and can support higher densities.
2) Fine Mono – our most common mono, it is breathable, durable and supports higher densities. It must be folded if used at the edges of the base.
3) Super Fine Mono – this mono has smaller holes so is more delicate and must be folded if used at the edge of the base. This mono isnt suitable for high densities.
4) German Net – more durable and less natural than the other materials.
We have base model kit ring for sale to help you choose a favourite design. Please click here to order http://www.lordhair.com/hair-replacment-base-model.html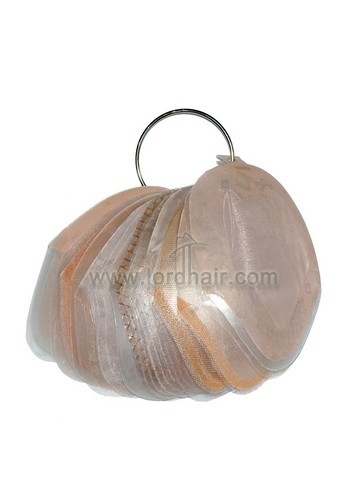 We hope this post helps inform you which base material is likely to be most suitable for you. We carry thousands of stock hair systems ready for immediate shipment that come in a variety of base types and colors. As always if you need any assistance, please contact us through our website or social media pages or email us at support@lordhair.com